Want beautiful flowers and vegetables in your garden this spring, but don't know if your horticulture skills matches your vision? Have you always wanted to compete with your gifted horticulturist neighbors, but have never had the skills that they do? Now you can cultivate an impressive display of greenery by using these nifty tips and tricks. Learn how to transform your barren yard into grandeur with these easy yard cheats that everyone will be impressed by.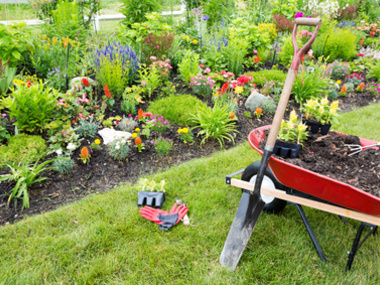 Choose Succulents
There's no doubt that succulents can be beautiful, however, not only do they come in a variety of colors to match any landscape, but they can handle a little bit of abandonment from time to time. They are best grown in areas where there is lots of sun and fairly dry soil.
Use Sparkling Water
For many gardening spots, especially places of high elevation, watering your plants with sparkling water can actually help them grow. At high altitudes, plants can be deprived of carbon dioxide, so spraying your plants with sparkling water can increase the carbon dioxide and make your plants grow to new heights.
Plant a Dwarf Tree
If you're worried about your cultivation skills, start by planting a dwarf tree. These trees only grow five to ten feet tall and can be grown in large pots. They can even be replanted or moved if their growth gets too extreme. They adapt very well to most environments, but be sure to select the right type of dwarf tree to plant in your climate. And of course make sure to water and fertilize them so that your trees don't run out of nutrients.
Create a Terrarium
Terrariums have a look of elegance and sophistication upon first inspection; however, they are one of the easiest horticulture projects to undertake and maintain for years to come. Be sure to select plants that will only reach small sizes and ensure that the varieties you choose will grow well in a low amount of light and high humidity. They will even let you know when they need to be watered based on the amount of condensation you can see on the glass.
Pick Plants that are Durable
When looking for outdoor plants to include in your landscaping, choose plants that can easily withstand a wide variety of weather conditions. You never know when you might get hail or a rainstorm. A variety of grasses and flowering plants will come back, without effort, year after year, due to their sheer resilience to any conditions. These plants can also serve as filler pieces around your main flower garden or greenery area.
These gardening cheats are also great for staging your home. If you're thinking about selling, contact me and I'll share more great ideas to get your home in tip-top shape.