Make a Pet-Friendly Space
Hazard-proofing
Take a look around your house with fresh eyes to reveal a myriad of dangers to animals. The most common to watch out for are: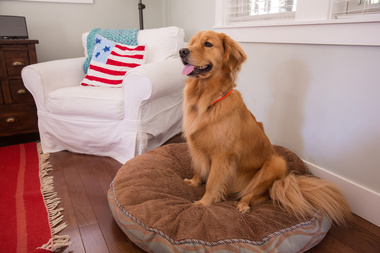 Anything that could choke or electrocute. Tuck away wires and looped cords, and keep pulls for window blinds short.
Food and medications should be sealed away and out of reach, even from determined cats, which can climb up high.
Trash cans are a huge temptation for curious pets! Be sure yours closes with a tight lid.
Monitor your greenery, as some plants, including lilies, mums and aloe vera, are toxic to pets. Check inside and out for these plants, and research a new plant before you buy it.
Household cleaning products, fertilizers, pesticides and antifreeze all are toxic to humans, let alone your pets. Keep them in a secure place away from sniffing noses.
Be sure window screens are sturdy and correctly installed to stop falling felines.
Inside the home
Fido and Tabitha have needs of their own just as you do, and they probably need a bit of space designated just for them.
Give your pets a bed, a water source and some toys to create their own area.
Consider giving them access to the door so they can run outside at their leisure; a well-exercised pet doesn't get into trouble or bug you all night.
Put the litter box in an area that has some but not too much privacy so your pet feels comfortable using it.
Decorate inside with sturdy furniture fabrics and hardwood floors that will withstand wear and tear. Carpet can trap germs your pet brings in, so vacuum it twice a week. Stains are always easiest to remove fresh, so get on them quickly!
Careful eats
The Food and Drug Administration has your furry friend at heart; it's best to follow its suggestions for storing and serving pet food:
Dry food should be stored in its original bag and then placed inside a food-grade plastic container to keep away pests. Don't use a trash can, which can leach chemicals into food over time.
Use a small cup to scoop the food out of the bag; do not use the food bowl.
Store wet food in the refrigerator.
Special care for pets
Some animals require more special care than cats and dogs do. Small animals are deceptively high maintenance and often are given to children as "starter" pets. But they need the most specialized care and demand the same amount of attention as dogs and cats. Always do your own research on any animal you adopt for your home.
The best thing you can do for your pet is provide a comfortable home with loving company. Attend to their needs and they are sure to stay happy and healthy and live a long time. Enjoy the love!