If you're looking to redecorate your home, French country design is a great option. It's a classic style that seems to never go out of style. Here's some guidance on how to choose pieces that fit into this design aesthetic and where to go to find items that reflect this style on the cheap!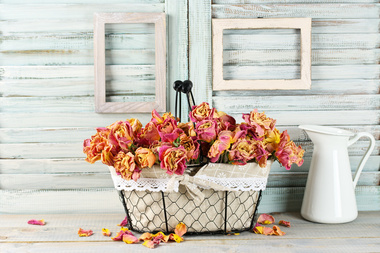 Whitewashed furniture
Wood furniture that is whitewashed is a staple of the French country style. Think antique, slightly distressed nightstands or an armoire that has been coated with a thin layer of milky white paint. Some of the wood should show through, giving the furniture a worn look. You can buy pieces of furniture already in this style or you can makeover pieces you already have.
Distressed wood
If you're going to bring pieces of furniture into your home that are not whitewashed, they should feature distressed wood. That raw-edge, weathered look is what French country style is all about. Items in the home should looked lived in, loved and passed down. As with the whitewashed furniture, you can buy pieces that feature distressed wood or you can find simple tutorials online to make this a DIY project.
Milk glass
Milk glass was invented in Venice in the 14th century, but it saw its heyday in the 1950s when many homes included it in their dishware and decor. These days, you can find milk glass at just about any antique market or vintage store. Vases are a popular item for milk glass, but you can find milk glass used in all sorts of homeware pieces such as bowls, cups, goblets, trays and even lamps. If you're lucky enough to snag yourself a lamp made of milk glass, try pairing it with an Edison bulb and skipping the lamp shade. It will give a more raw, vintage look to any of the rooms in your home.
Neutral color palette
French country style doesn't employ a wide variety of colors. You want to pair neutrals together, such as ivory, beige, heather gray and subtle blushes. Stay in the natural color realm and your home will easily be transformed into a French country photo shoot.
Burlap and lace
In terms of textiles, keep it natural looking — clean, white linens and, again, neutral colors. A particularly French country pairing is burlap and lace. You could use both of these materials to layer on a table or credenza, for instance.
Shop inexpensively for French country items
Turning your home into a French country escape can be done fairly inexpensively. As mentioned above, a lot of the furniture styles can be created at home. Since French country style takes a lot of inspiration from antiques, be sure to scour antique malls and thrift stores for treasured items. If you're looking to redecorate your home on a budget, French country is the perfect style to go for.
Have questions about how to transform your home? Give us a call today — we'd be happy to offer advice.