Yes, there are a lot of professional closet organizers out there, but you shouldn't need an expensive consultant to get the most out of whatever storage space you have. All you need is a free weekend to realize at least one of your New Year's resolutions: a better-organized house. And it will give you a workout — without the parking hassle.
The first step in organizing your closet is to remove everything. (This is another stellar opportunity to start off your year with a clean slate!) Go through and donate anything you haven't worn in the past two years.
The next step is to group articles according to your lifestyle. Do you work in an office that requires business attire? Save space and morning frustration by hanging outfits together on one hanger. Work by Wi-Fi? Group similar pieces in an orderly fashion so you can dress according to mood or climate.
Now, you can have fun with hanging. Old shower curtain rings make great hangers for shorts or accessories. Slip a ring through a belt loop or purse strap, and hang a selection of scarves, or even baseball caps, from it. Oh, and the tops of soft-drink cans can add another layer of hanger space. Slip the tab over the hanger hook, and then slip another hanger through the tab to hang something else.
Remember: Use all the available space, and be sure to upcycle. Shelving doesn't have to be wire or wood; you can use wine boxes to store shoes or T-shirts. PVC pipe can be used for all sorts of storage for things from shoes to necklaces, depending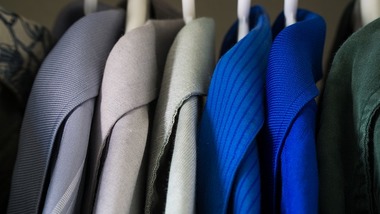 on the size of the tube. The latest adhesive hooks allow for more hanging space, even on the back of your closet door.
If you box up items, make sure you label the boxes. Have fun with a label maker, or cajole a youngster to break out the marker pens. That way you're not undoing all your hard work by rifling through the boxes when it comes time to retrieve something.
Working our way down, let's address the shoe situation. My favorite solution is a box or basket. A magazine storage box is an easy and inexpensive way to organize shoes. You can even kick off your shoes directly into the box.
Another brilliant shoe hack is an old CD rack. Hang the frame or leave it on the floor, and then slide rubber sandals into the spaces.
For larger shoes, and for those who can't seem to keep the wine rack full, move the wine bottle holder into your closet. You can place shoes in the curved openings just as though they were bottles.
Finally, wicker baskets are the ultimate cheat in organizing. They are decorative and opaque, so at a glance you look organized even if the contents of the basket are a mess. They just might be the organizer's best friend!