Hot Design Ideas for Your Home
We all want a little luxury in our lives, and staying up-to-date on current design trends is just one way to incorporate a bit of style into everyday décor. Whether you're just looking for a few new pieces to spice up your living room or you're ready to revamp the entire master bath, taking a few design cues from luxury real estate can be a great way to stay current and fresh.
Rather than sifting through countless magazines to stay abreast of these trends, check out our list of some of the biggest trends in recent years.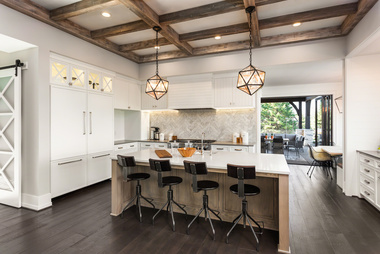 Bringing Nature Inside: Elements from nature elevate home décor. Invite green plants into the house in all shapes and sizes. Lush ferns and delicate succulents create a sense of calm. Look to natural fibers for accent pieces, such as sisal and wool and organic shapes found in tree bark or rough-cut stone.
Brass Accents: Aged brass accents are popular for creating that vintage-inspired look. Add burnished bronze and brass pieces for a bold statement.
Mix and Match Metals: Don't be afraid to clash. Brass paired with silver and copper have been spotted in upcoming design trends. Metallic shades will add a retro flair to an otherwise dull room.
Stealth Electronics: Nothing feels more luxurious than the total integration of your home in the palm of your hand. Control your lighting, entertainment system and environmental controls, even your garage door, with just your phone. Integrate your security system as well. Several options are available that allow you to access strategically placed cameras in any room in the house.
Electronic Entry: Never get locked out again. Electronic integration continues to customize the residential market. Smart locks feature unique identification codes in a sleek touchpad. Available in many fine finishes, smart locks also boast high-end craftsmanship.
The Rustic Farmhouse: Farmhouse kitchens blend rural charm with modern design. Merging rustic touches with contemporary utility is on the rise in home renovation trends. Pair a farm-style tub sink with stainless steel appliances in an open floor plan to achieve this balanced style.
Library Retreats: Complete your luxury upgrade with your own literary sanctuary. Advance your home office into a tranquil library to accommodate your interests. Unplug from modern life and sink into a relaxed pace, surrounded by priceless pieces of literature and culture.
Luxury incorporates sophistication and technology with natural and timeworn accents. For even more tips on how to integrate today's design trends into your home, give us a call today.