Get the Trend: Mid-Century Modern
The mid-century modern design trend comes from the style of home décor and furniture that became popular after World War II. The 1950s and 1960s saw a whole new approach to home design that focused on futuristic patterns, clean lines and furniture that was both functional and stylish. This type of décor has become hugely popular again, and there are some simple ways you can get the trend in your own home.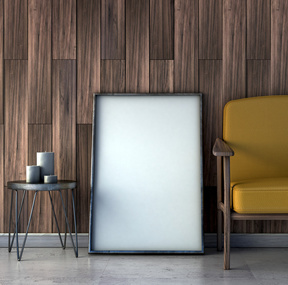 Ergonomic furniture
The idea that furniture should be made for efficiency and comfort was a popular concept in the 1950s and 1960s. Lots of chairs were designed with the user in mind. Ergonomic furniture features a simple, clean build, and comfort is the goal. Sofas and chairs from this time period were often designed with tapered legs.
Egg Chair
The Egg Chair is a well-recognized piece of furniture. It was designed in 1958 and is distinctly mid-century modern. These chairs are making a huge comeback and can be found in many homes that rock the mid-century modern trend. You can buy this style of chair at a variety of places such as Pottery Barn and Wayfair.
Eames Lounge Chair
Another quintessential piece of furniture is the Eames Lounge Chair. It was developed in 1956 and some original examples can be found in the Museum of Modern Art. Much like the Egg Chair, countless furniture brands make their own version of the Eames Lounge Chair, and you can find them at different price points. You can find versions at West Elm and even Etsy.
Embrace tweed
Tweed was a very popular fabric for furniture in the '50s and '60s. We're not suggesting that you deck your house out in tweed-only furniture, but investing in a loveseat made of tweed will instantly give your home mid-century modern vibes.
Know your patterns
A variety of patterns are known as distinctly mid-century modern, such as geometric, modern deco and atomic. Use these slightly wacky but tasteful patterns as inspiration when you shop for textiles, wall prints and throw pillows.
A neutral palette with pops of color
The classic mid-century modern color palette features lots of muted tones such as gray or moss, but accents of yellow and orange are common. It's all about balance when it comes to this design trend. If you have one wall painted a burnt orange, keep the other walls a neutral color and add hints of orange as you further accessorize the room.
Be as clutter-free as possible
In its simplest form, mid-century modern design is all about creating open space that breathes relaxation and cleanliness. Everything you bring into your home should have a purpose, and you should try to keep your home as clutter-free as possible. It's not necessary to always have your home immaculate, but you should look for pieces of furniture that will help you stay organized. A coffee table with underneath storage or a wood hutch to hide extra blankets, magazines and mail are all great additions.
Want more home décor tips and tricks? Give us a call today 617-306-3642.