Here in New England we all love the outdoors and for some buyers outdoor living space is equally as important as indoor living space. Winter can be long but here are so great ways to use your outdoors spaces once the weather has turned colder.
How to Use Your Patio When It's Cold: An Outdoor Transformation
You don't want to miss the magic of winter by being cooped up inside. You can enjoy the colder months by transforming your outdoor space into something more comfortable for the changing temperatures. Here are some quick and easy tips to get you started: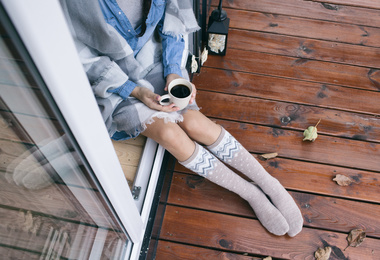 Add a heat source
There is no doubt you will need to add some kind of heat source to make your outdoor patio, balcony, porch, etc., feel comfortable. Look into installing a fire pit or heated floors. Heat lamps are also a good investment.
Another option is heated furniture. It's a good alternative if you don't want to do a major installation project.
Bonus: Don't forget to roast marshmallows and chestnuts if you go the fire pit route!
Plant snowdrops and winter jasmine
Just because it's no longer warm outside doesn't mean you can't have some fresh greenery. There are lots of plants that flourish in the cold. Look into installing some planters and filling them with snowdrops and winter jasmine — two plants that do great in lower temperatures.
Use lots of rugs
If you're not going to install heated floors, make sure that you compensate with lots of layered rugs. You can combine low-pile rugs with high-pile ones, wool with faux fur — anything that suits your style. Nothing will keep you from using your outdoor space more than freezing cold feet!
White lights and candles (for ambience)
Besides the practical features that you need to include in an outdoor space, you should also create an environment that reflects warmth and happiness. White lights strung on railings or dangling from the ceiling will make it look like a winter wonderland. Put candles on all the surfaces and light them at night for a delicate flickering that will make you feel warm and toasty.
Screen it in
If it's feasible with the type of outdoor space you have, install screens to help keep out the elements. A major project would be to install glass windows and a roof if you don't already have one, but as long as you have a heat source like a roaring fire and some soft sweaters, screens will help reduce bitter winds.
Throws galore
Make sure that every piece of furniture you have in your outdoor space has an extra blanket or throw. Outdoor spaces are never going to be like indoor ones — there will always be some element of chill — but that's part of the fun. Layering blankets is a great way to add texture and warmth.
Looking for even more ways to make over your home for winter? Give us a call today for our favorite tips!